Welcome to AJ's! Although we have been in business over 20 years, I'm just now starting to blog. Think I can keep it up? I hope so. We have so many fun gifts and quality products to share with our customers – sometimes I just do not know where to start!
Lilly just spoke up with a small bark, so I will start with her. She is AJ's official Greeter & Super Sale Specialist. She barks a "Hello" and many of our friends are concerned if she's not on duty.  If you are new to AJ's be sure to ask about Lilli, our little Papillon (French translation is "butterfly" ears so big they will fly away). Keeping Lilli and me company is our other dog, __________. He is a __________________.  We also have ______ horses, ___________________. I'm up early with them and can't wait to get home to enjoy their antics and horsey energy.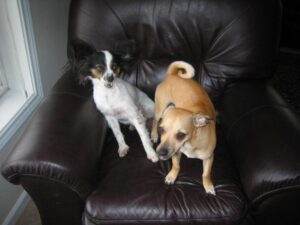 As this blog's headline says – we are loving our new website. I was quite attached to my old website. It had so much personality, just like AJ's! But, I am thrilled to see that all the animal fun was brought into our new site and it is much easier for our customers to find what they need, plus easier to update. I welcome your feedback, suggestions, and typo corrections…. our website designer tells me that she always includes at least one typo to satisfy grammarians!
I hope you visit us soon. Spring is in the air and we'll be bringing out many new products. If we don't carry a product you want, let us know and we'll check it out and see if we want to add it to our product list.
Have a HAPPY, HEALTHY, and PROSPEROUS 2022!